Kintamani is the name of an area located in the northeastern part of the island of Bali and under the caldera of Mount Batur, one of the active volcanoes in Bali.
In addition, there are volcanoes, in the Kintamani tourist area, you can see views of a natural lake called Lake Batur. there is also a heated swimming pool
Tourists can also climb Batur Volcano in the morning to watch the sun rise at its peak, it takes approximately 2 hours to get to the top of the volcano
Within the tourism area, there are several villages. Such as Penelokan village, Abung village, Songan village, Toya Bungkah village, Batur village, Kedisan village, and Kintamani village part of Bangli district.
Most tourists who vacation in one of the villages mentioned above are more familiar with Kintamani
There are three favorite tourist villages to see the view of Mount Batur and Lake Batur. Namely Penelokan village, Batur village and Kintamani village, because they are in the highlands. In addition to seeing the natural scenery of mountains and lakes, tourists who vacation at Kintamani attractions also like swimming in the natural hot spring pools in the village of Toya Bungkah.
In addition to having natural attractions, in the Kintamani area, there is also a very well-known temple, the Ulun Danu Batur temple.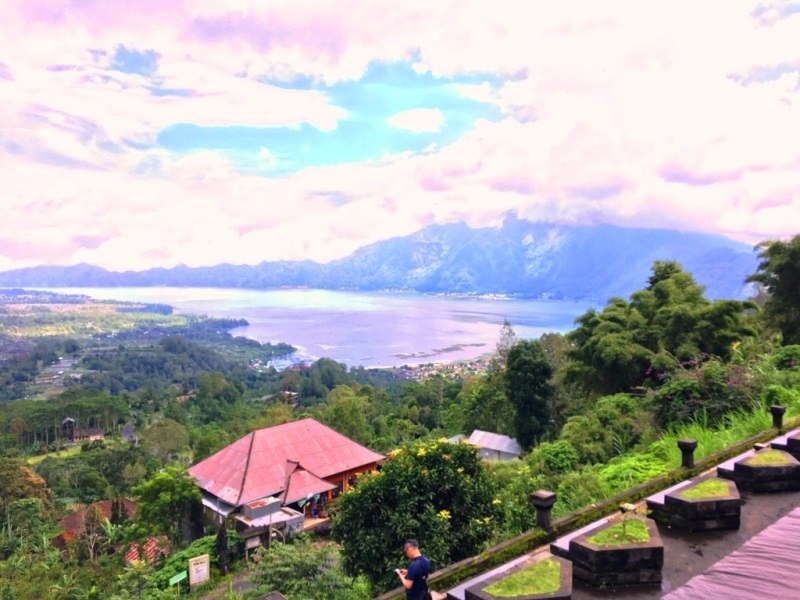 The native people of Kintamani are very friendly and most of the people of Kintamani work as farmers. Because this region has the potential for agricultural land which is supported by cool nature and fertile land. Famous agricultural products include oranges, tomatoes, cauliflower, and shallots. In addition to agricultural products, the Kintamani area is also well-known as a place to look for small pet dogs and bushy fur.
In Kintamani, there are many hotels and inns, restaurants and food stalls with varying prices.
In this region, the air is very fresh, with very cool temperatures around 21 degrees Celsius during the day. The temperature in Kintamani is almost the same as the temperature in the tourist area of ​​Bedugul.
The main attractions of the Kintamani tourist attraction that attract tourists to visit are three, namely;
The view of Mount Batur and the view of Lake Batur which can be seen from the village of Penelokan. Natural hot spring baths in the village of Toya Bungkah. Cool climate and fresh air in mountainous regions.
The main thing you can do at the Kintamani tourist spot is to enjoy lunch while seeing the beautiful view of Mount Batur and Lake Batur. Restaurants in Kintamani, most of them provide food with buffet service, so you can enjoy all you want.