Tirta Gangga Taman Ujung Tour
Tour will explore the eastern part of the island of Bali which is unique such Bali Tirta Gangga, Kerta Gosa, and Taman Ujung.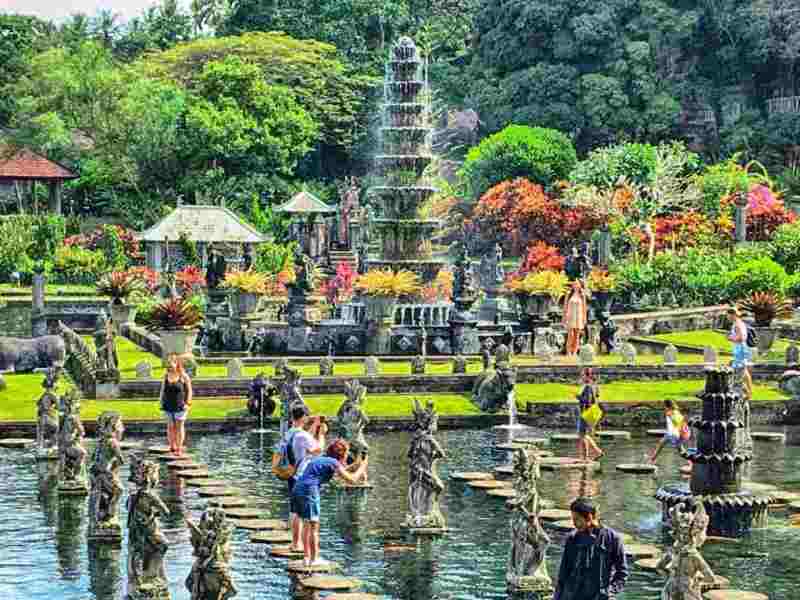 First We will visit:
Kerta Gosa is a royal compound with pretty ceiling paintings of puppet originally setting for royal high court and present the structure of Bale Kambang there are scene stories from the Tantri and Mahabharata epic painting in several ceiling representing of Karma Phala ( action and reaction ) heaven and Hell, In Bale Kambang has a story of Sutasoma as well. At the eastern part of Bali, We will visit traditional village of Tenganan, the name of the village is Tenganan village/ Original Balinese. they are original Balinese or Called Bali Aga. Tenganan is the best preserved of the Bali Aga villages.
Then continued seeing Tirta Gangga is surrounded by the bathing pool it was built in 1974 by Anak Agung Anglurah Ketut, the last king of Karangasem. and restored after the damage sustained in the 1963 eruption of Agung volcano and Taman Ujung Soekasada and last place that we are going to once of luxurious water palace.
Tourist attraction will be visited during the Bali Tirta Gangga Kerta Gosa Taman Ujung Tour
Tour Itinerary:
Pick up at the Hotel and start the tour at 9.00 Am
Kerta Gosa Hall Of Justice
Tirta Gangga Holy water from the Ganges
Taman Ujung Water palace/Taman Ujung Soekasada
White Sand Beach
Back to hotel
Tour rate:
Included: Car/Van/, driver + English speaking driver, petrol, and parking fees
Excluded: Entrance fees, meal, and other personal expenses
Pick up time : 09:00 – 09;30 am